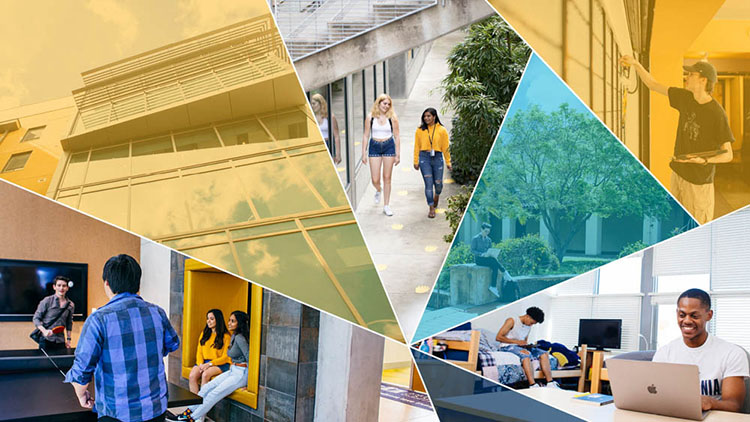 Welcome to UC Berkeley!
Cal Housing wants to offer a warm welcome to you and a digital introduction to your campus housing options.
Click links below to jump to location on page:
Visit Us at Cal Day and Cal Week
Find Your Best Start on Campus
Visit Us at Cal Day and Cal Week
Visit Us In Person at Cal Day: Newly admitted students and their families are invited to Cal Day 2022, where you can explore UC Berkeley's campus, discover resources, and meet our vibrant community. Cal Day 2022 is Saturday, April 23, 2022. This year's event is for registered new students and their families only. Cal Housing and Residential Life staff will be hosting outdoor booths and events on Cal Day; check the MAP@Berkeley Admissions portal for details. 
Visit Us Online at Cal Week: During Cal Week, April 25-29, 2022, Cal Housing will offer online information sessions to provide an overview of your housing options and answer your questions. Information about Cal Week events will be in your MAP@Berkeley Admissions portal. 
Find Your Best Start on Campus
Berkeley's living communities provide an inviting home where scholars create memories, share ideas, and grow alongside friends. Make the most of Berkeley's world-class education by living on campus and alongside your peers. 
Discover Valuable Academic Advantages
Living on campus puts you in an energetic environment that encourages productivity and challenges you to be your best self.
Enjoy Simplicity and Convenience
As you live away from home in an unfamiliar environment, perhaps for the first time, there are many ways living on campus can make your transition to Berkeley easier. Plus with a short walk to classes, libraries, and countless student events, you'll have more time for studying (and study breaks!).
Value and Convenience
No large upfront deposit
Financial aid awards can be applied to your housing costs
Contracts are for the academic year (no year-long leases required)
Payments are auto deducted from student account
No credit checks or cosigning
No extra expenses if a roommate leaves
Easy to apply!
Housing Rates Include
High speed Wi-Fi and Xfinity streaming TV
Utilities: gas, electric, water, garbage, recycling, compost
Flexible meal plans and on-site kitchens
Furnished rooms and living spaces
On-site fitness centers and recreation rooms
Facilities and custodial staff
Laundry centers, mail services, bike storage
Professional live-in staff available 24/7
Three tiers of secured entry & access for buildings
Dining That Fits Your Lifestyle
Cal Dining is ranked as one of the best dining programs in the country. Our chefs and dietitians take pride in what's on your plate. You'll find:
Fresh, organic ingredients from local farms to your fork
Innovative menus highlighting California's diverse cultures and flavors
Locations across campus to dine in, or grab and go
Vegan, kosher, halal, gluten-free, and allergen-safe choices
Students with a Residence Hall contract are automatically enrolled in the Blue Plan, or you can upgrade your meal plan to get more value and flexibility. Although apartment rates don't include meal plans, there are meal plans available for students who live in off-campus housing or university-owned/affiliated apartments.
Connect with Community
Living on campus creates opportunities to make lifelong friends and explore new experiences through on-site activities. From movie nights to open mics, from late-night chats with your resident assistant to fireside chats with faculty in residence, you'll find community right at your doorstep.
Welcoming and inclusive spaces are an important part of UC Berkeley housing. New students and undergraduates are invited to explore our unique living-learning Theme Programs where students with a shared identity or scholarly interest live in the same residence hall.
Eight Theme Programs offer the benefits of a small, close-knit community with activities centered around the thematic connection: African American (AATP), Bloom Asian American, Casa Magdalena Mora (Casa), Global Environment Theme House (GETH), Native American (NATP), South Asian, Southwest Asian, and North African Living Community Pilot Program, UNITY Theme Program (UNITY), Empowering Womxn in STEAM (WISE).
Discover an energizing experience at Berkeley and the many other benefits offered by on-campus housing.
Did you know? In typical years, 96 percent of entering freshmen and over a quarter of entering transfer students have chosen university housing and the benefits that come with it.
Explore Cal Housing
Get started by exploring Housing Options and finding the latest Housing Rates.
Take a Video Tour
Visit our Video Tours Page to get an in-depth look at campus residence halls and apartments.
Applying as a New Student
New students (undergraduate and graduate) will need to create a Berkeley campus identification (CalNet ID) after accepting their offer of admission. You'll need your CalNet ID to access the housing application portal. For a guide to the application, see: How to Apply: New Students.
Explore Housing FAQs for Newly Admitted Freshmen or Transfer Student FAQs for more information. 
Digital Brochures